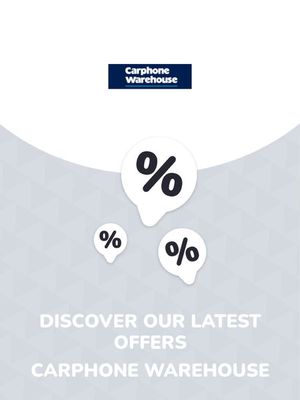 Offers Carphone Warehouse
Looking for the best Carphone Warehouse offers
If you are looking for the biggest Carphone Warehouse discounts you are in the right place. Here on Tiendeo, we have all the catalogues so you won't miss out on any online promotions from Carphone Warehouse or any other shops in the Electronics category in your city. There is currently 1 Carphone Warehouse catalogue on Tiendeo. Browse the latest Carphone Warehouse catalogue "Offers Carphone Warehouse" valid from from 5/10 to until 5/10 and start saving now!
Find Carphone Warehouse catalogues in your city
Carphone Warehouse, all the offers at your fingertips
Carphone Warehouse is a retailer of mobile phones with over 1100 stores across the UK and Ireland. As well as handsets, Carphone Warehouse phones are available on a wide range of network tariffs.
About Carphone Warehouse
Carphone Warehouse phones offer one of the widest ranges of brands on the high street, including the latest models from iPhone, Huawei, HTC, Samsung, Blackberry and more. Can't decide which smartphone's right for you? Use the Compare tool online to find out which phones are best for photos, games, videos or whatever else you want. It lets you pick any two phones and compare their features side by side.
There are over 1100 Carphone Warehouse stores throughout the United Kingdom, so check online to find your nearest store. If you're struggling with complicated specifications and pricing when shopping online, use the Carphone Warehouse live chat function to receive expert assistance while you shop.
History of Carphone Warehouse
If you're not old enough to remember, Carphone Warehouse was founded in 1989 at a time when mobile phones were too cumbersome to be carried around, and so were referred to as car phones. After only 4 years the company had grown to 20 stores. The company underwent a number of mergers and acquisitions over the years, eventually merging with Dixons Retailer in 2014. They now have stores in most towns and cities in the United Kingdom as well as the handy online store. They also recently launched their own mobile network, iD.
The online store is the best way to discover the latest Carphone Warehouse deals, and signing-up to the email newsletter will get you even more. Hear about the latest deals and new releases first, receive exclusive offers and win prizes like tech bundles and 5* holidays. Carphone Warehouse are all about helping the customer save, so if you find a cheaper deal elsewhere they'll match it and pay your first month for you!