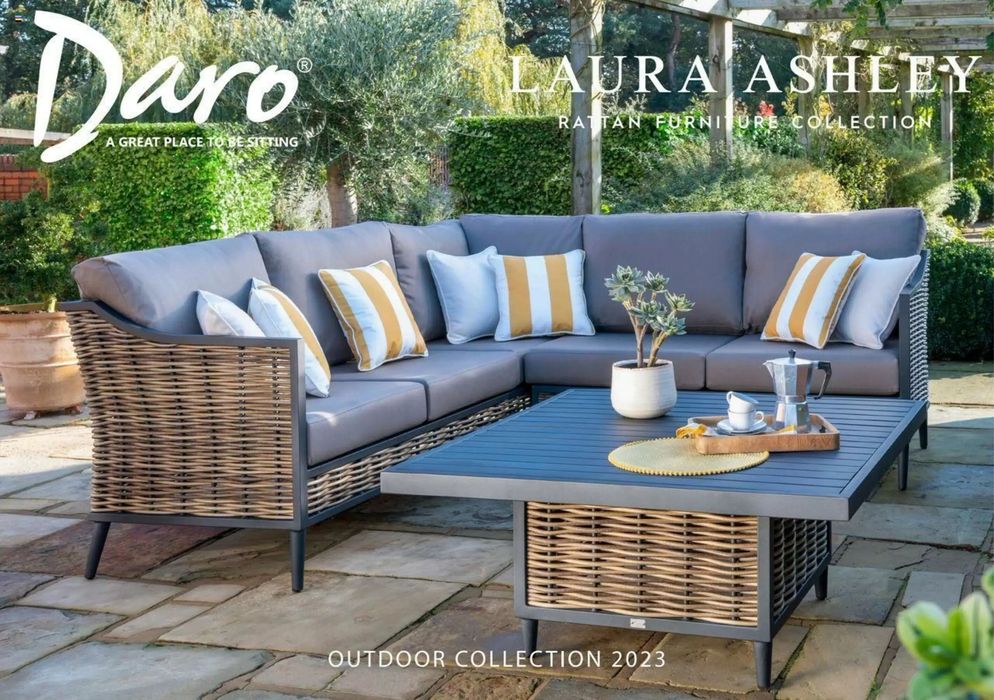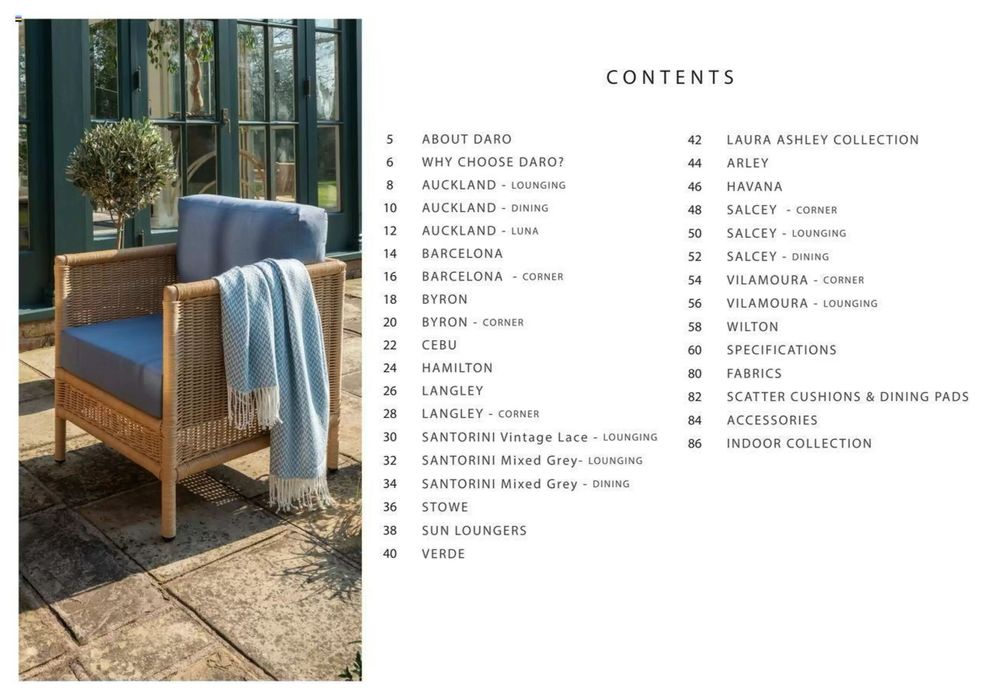 Laura Ashley 2023 Outdoor Collection
Looking for the best Laura Ashley offers
If you are looking for the biggest Laura Ashley discounts you are in the right place. Here on Tiendeo, we have all the catalogues so you won't miss out on any online promotions from Laura Ashley or any other shops in the Home & Furniture category in your city. There is currently 1 Laura Ashley catalogue on Tiendeo. Browse the latest Laura Ashley catalogue "Laura Ashley 2023 Outdoor Collection" valid from from 13/9 to until 31/12 and start saving now!
Find Laura Ashley catalogues in your city
Laura Ashley, all the offers at your fingertips
Known as a quintessentially English lifestyle brand, all Laura Ashely prints, designs and colours (founded on the traditional values of quality and originality) are perfect at evoking the English countryside's beauty.
About Laura Ashley
Want to be inspired for your home's next look? Then see the newest online catalogue on the Laura Ashley website. With pages full of style tips and tricks, you will soon learn how to successfully combine wallpaper, how to work with upholstered furniture, everything you need to know about lighting and mirrors, and so much more!

The history of Laura Ashley
It was in 1953 that married couple Bernard and Laura Ashley founded their company by hand-printing fabrics at their kitchen table after being inspired by a Women's Institute exhibition at the V&A museum. It only cost them £10 to invest in wood for a screen, fabric and dyes to get their project off the ground. And their design skills they learned from library books.
The following year, the first Laura Ashley tea towels were produced. And in 1957, thanks to the growing success of the gardening apron, Laura Ashley produced overalls and sold them in the thousands. That was when exports started to Europe, the US and Australia.
In 1962, Laura Ashley employed its first fashion designer, resulting in the brand introducing its first dresses (including a Victorian-inspired nightdress). Cut to 1981, when the company introduced its first product catalogue with no fewer than 72 pages printed in four languages (English, French, German and Dutch).
In 2000, Laura Ashley launched its website and introduced clients to the wonder of online shopping, whether it's for furniture, dresses, etc.
The Laura Ashley story still continues in 2021, with the brand partnering with NEXT to reintroduce its home collection online, as well as in various UK stores in spring 2021.


Laura Ashley offers and online shopping
Tiendeo and the Laura Ashely website might await you with the brand's freshest online product catalogues, but that's not the only client perk that you can enjoy on the main website.
• To see a detailed list of all Laura Ashely outlets, consult the online Store Locator.
• Need help setting up a clothing budget? Simply answer a few online questions on the Clothing Budget page to clarify any doubts.
• And for advice regarding everything from choosing the right fashion sizes to opting for the perfect wallpaper and fabrics, consult the online 'Product Information' page.
Remember to sign up for Tiendeo alerts so that you'll always receive the newest online catalogue, discount brochures, weekly offers, and more from Laura Ashely in your town or city.